Best distance selling experience
Your products deserve
the best distance
selling experience
Invented in 2019 by independent Geneva-based retail experts, the Visiodome, a pioneer trunk for distance selling, was designed to meet the emerging need for new distance selling tools in the luxury and retail industry.
The Visiodome experience blends human interaction and top-notch quality product presentation, empowering brands and retailers to get closer and engage with their clients, at store or HQ level.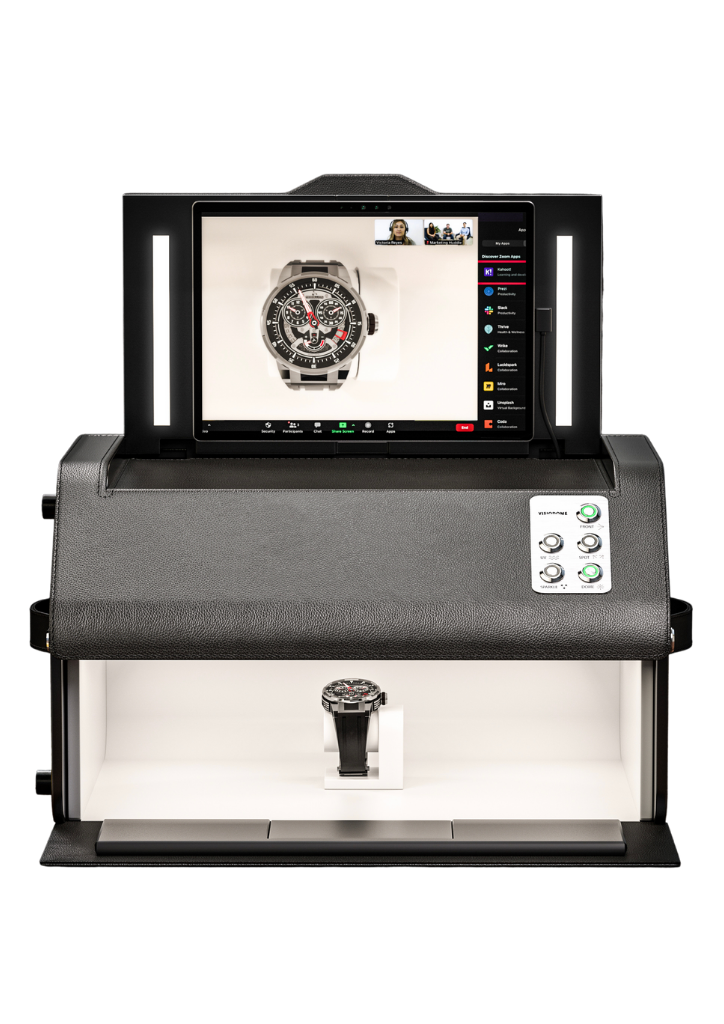 Multiple patents, trademark
All Visiodome are CE and UL listed
All Visiodome are CE and UL Listed
A PORTABLE VISIO-VIDEO STUDIO
Designed for small retail spaces, the trunk is compact, and includes everything to run a 1-to-1 or 1-to-Many videocall. It can be stored sideways using its leather handles / feet.
The Visiodome is easy and quick to set up. It can fit within all corporate IT environments and is fully compatible with all the major videoconferencing/videochat software: Teams, Zoom, Whatsapp, WeChat, Webex, etc.
HIGH DEFINITION PRESENTATION
Get the latest technologies for ultimate live experiences: besides high-definition cameras, we offer a unique patent-pending Triplite™ lighting technology and high-performance streaming software. Our high quality video output was designed for high craftsmanship. It speaks for itself.
Maintain a permanent and simultaneous visual contact between your interlocutors, yourself and the products. Switch in a snap from a close-up view of an intricate detail to a brand video then to you closing the deal.
UNIQUE TRIPLITE TECHNOLOGY
A fully controlled and replicable lighting environment is best for proper rendering. Using a combination of multiple and complementary light sources, we bring the best out of your products. Settings and colorimetry can also be adjusted following your brand's needs.
Add your logo and customize the vegan leather / fabric and the color of the case with a wide range of finishes.
Or a Visiodome totally custom made to the identity of your brand.
Never adjust Teams or Zoom settings again thanks to VDCast. This universal software cockpit simplifies the use of all videoconferencing tools, blending a switching board and file management tools. Switch between views, share inspiring digital assets on the fly, or record/snap for future messages to your clients in a tap.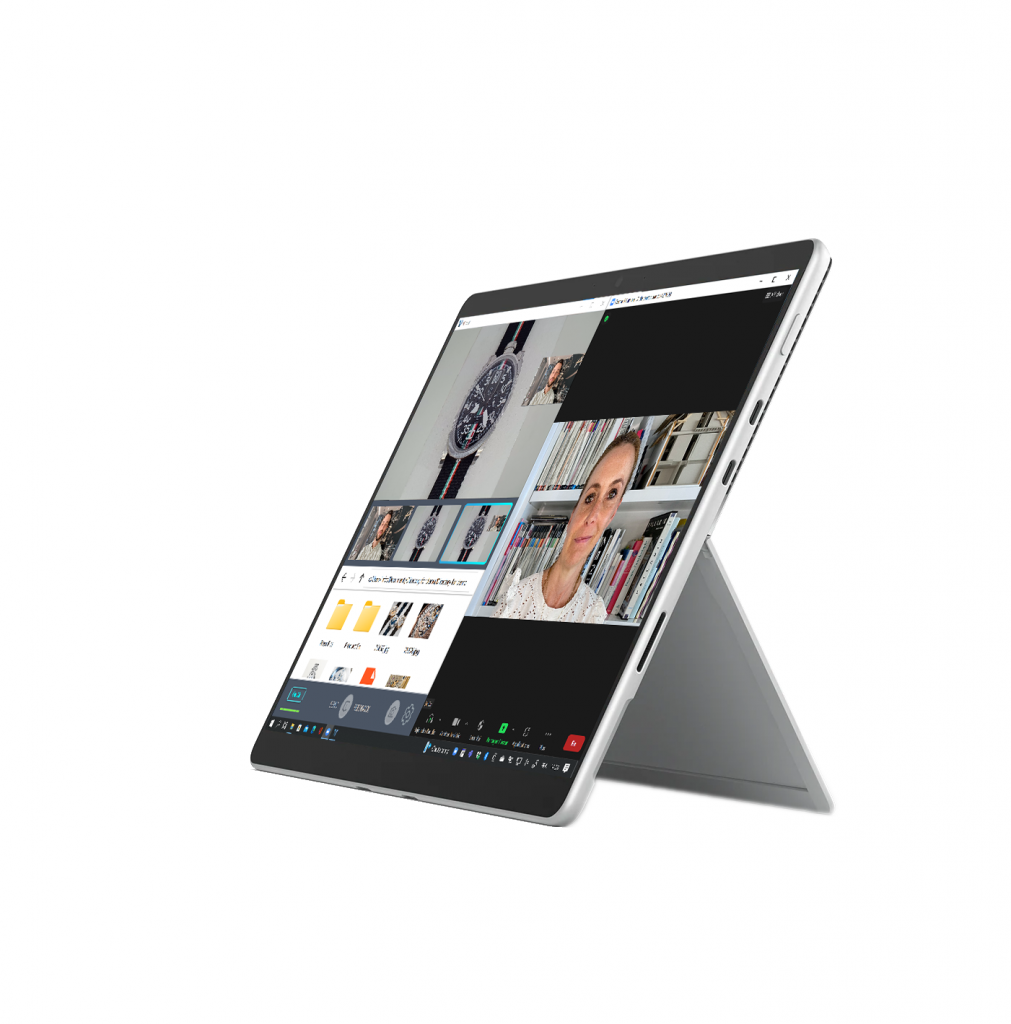 BUILT-IN FLEXIBILITY & SCALABILITY
Designed for WIndows PCs first and foremost, our software blends seemlessly with your current corporate tools and meets most stringent requirements of entreprise IT complex environments. (network, cybersecurity). It connects also to various proprietary videostreaming and video e- clienteling systems, from WeChat Mini programs to Powerfront Inside (r). Fleet and technical support is managed in the cloud for easy IT roll-outs.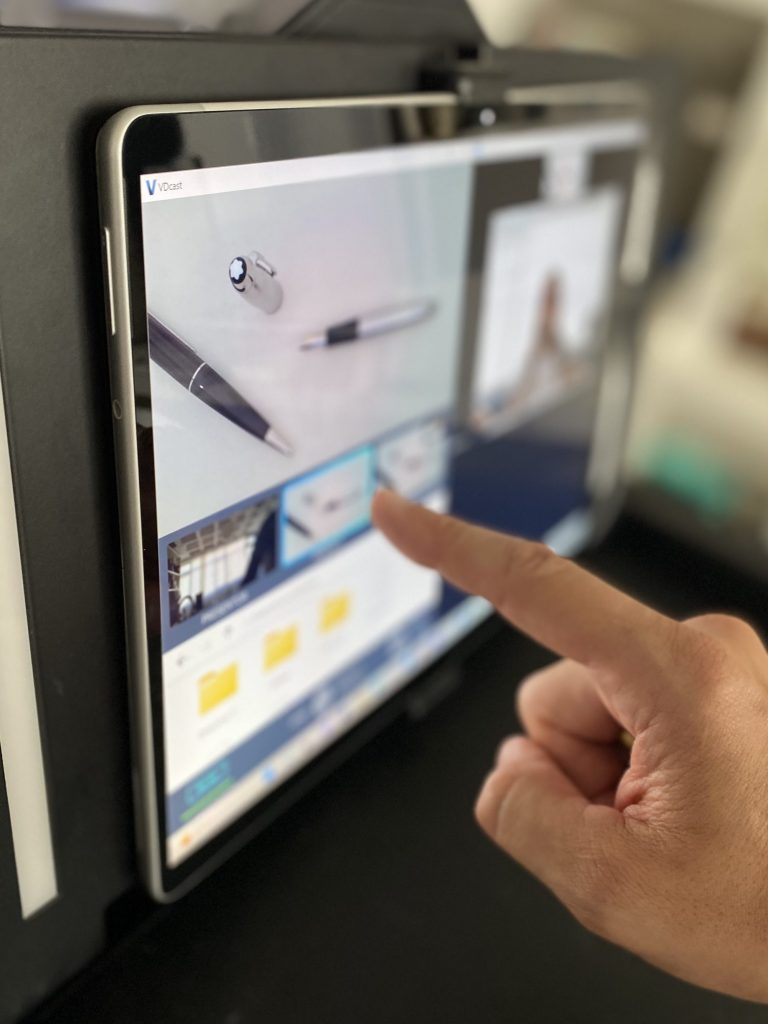 Visiodome can serve 1-to-1 and 1-to-Many video presentations, and is fully compatible with all the major videoconferencing & videochat software: Teams, Zoom, Whatsapp, WeChat, etc.